Scotty's wanderquest has come up with unique activity boxes for kids aged 6 to 12 years. These boxes have a Travel theme which is fun and grabs a child's attention instantly. Each box is a treasure of Amazing facts, fun activity sheets, maps, art and craft projects and puzzles about a country. With Scotty's wanderquest your child can explore a new country each month. These activity kits help in all round brain development of the kids with the help of different varieties of puzzles, science projects and DIY craft activities. It also helps the child to build up their English vocabulary.
---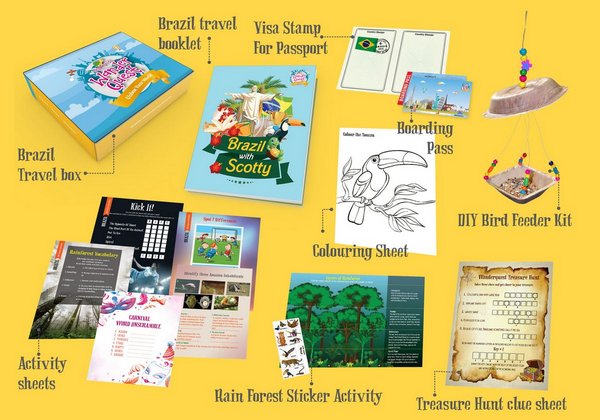 It will help your little explorer learn about the amazing rainforests, it's extraordinary wildlife, stunning Christ the Redeemer statue, the vibrant Rio carnival and much more. Kids also get to read the inspiring story of Pele, the greatest footballer of all time. They can also make their own colorful birdfeeder and learn all about feeding birds.
---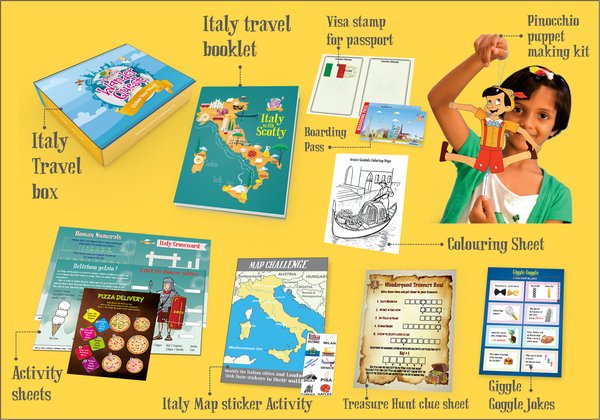 It is full of all things interesting. Kids can read about Italy's fascinating history and it's interesting people like Leonardo da Vinci, Michelangelo and Galileo. They can learn about great monuments like the Colosseum and leaning tower of Pisa. There are fun facts about gladiators, pasta shapes, Ferrari and Lamborghini cars and much more. Kids will also enjoy doing the fun worksheets and can make their own Pinocchio Puppet
---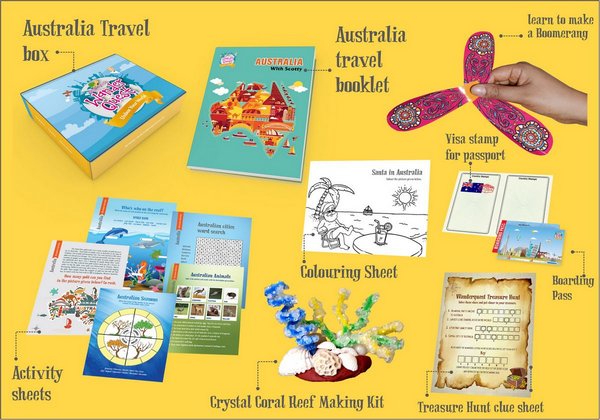 With this, kids can meet Scotty's new friends Joe, the kangaroo and Euky, the koala. They can learn about other Australian animals that are not found anywhere else, grow Borax crystals on a coral reef, make their own boomerang that actually comes back to them. They can also enhance their vocabulary and colouring skills with the fun worksheets.
---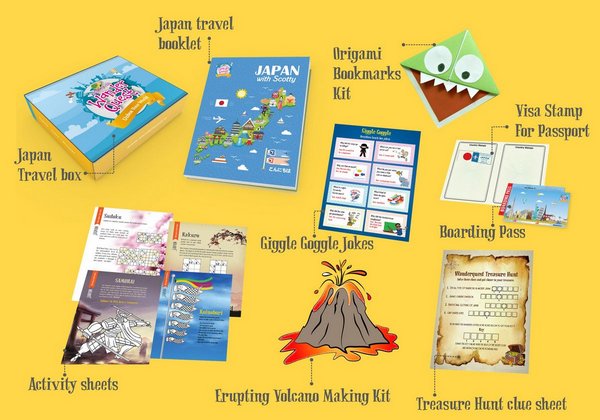 It will help your little one explore the beautiful country of Japan. Little explorers can learn about places like Mt. Fuji and Peace Memorial museum. They can also learn about Japan's incredible culture including: Samurai and Ninja warriors, Ningyo and Daruma dolls, Sushi, Bonsai, Origami and much more. Kids can learn to solve Japanese mathematical puzzles like Sudoku and Kakuro too. The most exciting part is that they can make their own erupting volcano model and Origami bookmarks. Isn't that awesome?!
---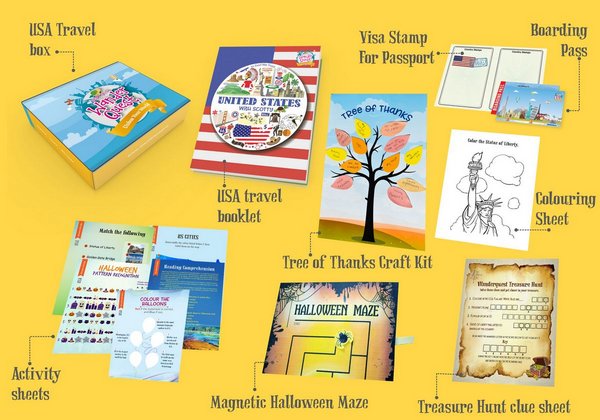 With this your little one can explore magnificent monuments of USA like the Statue of liberty, Golden Gate Bridge, empire state building etc. They can learn about the different national parks and cities. Kids can also learn about the American festivals like thanksgiving and Halloween through fun craft and games.
---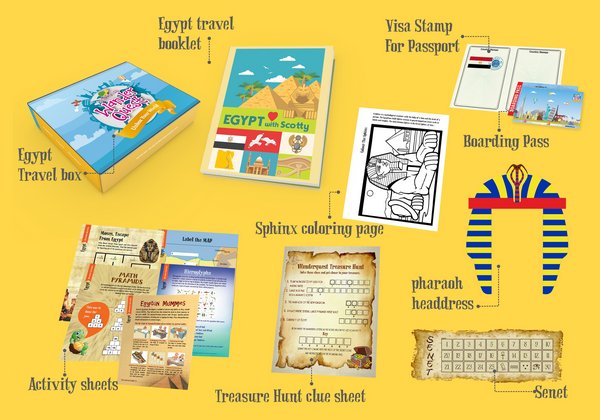 This is super fascinating and super fun!! Kids can learn about Ancient Egypt and it's unique culture. They can learn about the process of making mummies and learn how to decode Hieroglyphics. They can make a Pharaoh's headdress and role play. Kids can also play the ancient game.
---
The best part is that you can avail the monsoon offer of
which is available for limited time period. So, what are you waiting for?? Get your boarding pass now!
---
For more details hop onto our website www.wanderquest.in